24 Hours A Day
7 Days A Week
365 Days A Year
Police Officers, Firefighters & EMTs
Risk Their Lives.
For WHO? ... For US!

Show Your Support
Wear The Blue Band



NOW ALSO Firefighter RED SEE RED BAND SEE BLUE BAND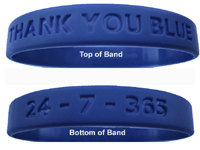 Only $3.00 Each
Plus Shipping & Handling
ADULT or YOUTH sizes

Checks & Money Orders Too!
International Shipping Available
100% of our profits
work for Police, Fire and EMS related needs.
Thank You Blue Corp
is a NonProfit Org
EIN: 20-2845548
Send this page to a friend!
AFFILIATE PROGRAM now in place
January 17, 2006
Thank You Blue has chosen IDevAffiliates as its Affiliate software provider. The system is robust in its capabilities to provide many options for advertising. The interface with our system is beautifully written and it has been installed and tested flawlessly.

The program is free to join, it's easy to sign-up and requires no technical knowledge. Affiliate programs are common throughout the Internet and offer website owners a means of profiting from their websites. Affiliates generate sales for commercial websites and in return receive a percentage of the value of those sales.

Visit the Affiliate information page and Sign Up today.